Here are the notes about Love&small now on progress.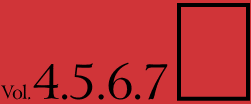 Overall Progress
Story Writer
 Story
Actor, height
LOVE&small vol.1
On Sale
L&S
Hospital
15cm



LOVE&small vol.2
On Sale
L&S
Test at school
15cm



LOVE&small vol.3
On Sale
L&S
Insurance
company
6cm



LOVE&small vol.4
Editing
L&S
Photographer
and her assistant
LOVE&small vol.5
Plotting
Mr.Cape
School
Childhood friend
Wanted
LOVE&small vol.6
Plotting
Mr.kuman
Police,
illegal immigrants
 Mr.kuman 
LOVE&small vol.7
Not started yet
L&S
Cable TV station
Shopping channel
?
LOVE&small vol.8
Not started yet
?
?






vol. 5 plot
1. In the classroom of high school. Rie and Mamoru know each other since
their childhood and they are really good friends.
2. At homeroom period. They are choosing a PR person of the class.
3. Rie was chosen. But she doesn't want to do it.
4. She hears that the leader of the committee is a senpai that she likes.
5. Rie gets motivated, but Mamoru is a little jealous.
6. Rie and Mamoru stop by a park. Soon, it starts to rain.
7.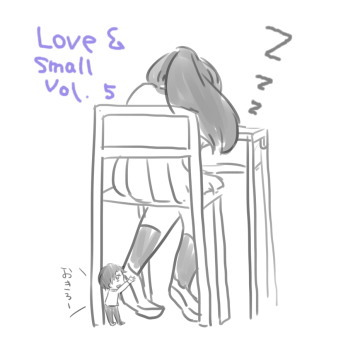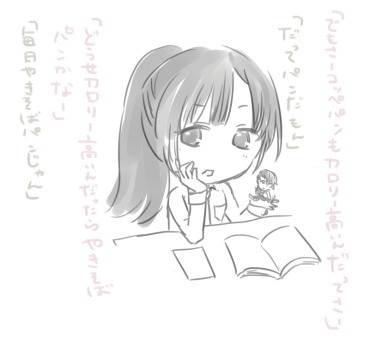 The script of Love&small vol.5 has completed! Please take a look.
We'll progressively post it from the part that has been translated.

<<Script>>-----------------------------------------

Scene 1 - Picture

A picture in the dark, 2 babies crying.
NA> Her birthday is only 1 day different of mine. We lived next to each other and we always played together.

2nd picture, elementary school
NA> I didn't get any taller and actually became shorter after entering elementary school. But she grew up taller.

3rd picture, at junior high school's gate, the day of graduation ceremony.
A girl is carrying a boy wearing school uniform for boys.
NA> We entered the same high school and at the time, I was even shorter.
Everyone was staring at us, but I didn't care at all. Because, she was always with me.


Scene 2 - In a classroom at high school

At a homeroom period
The class representative, Otomo is writing down 10 kinds of committees on the blackboard.

Rie, sitting at a desk near the window.
There is Mamoru, only 6.5 cm tall, at her hand.
Otomo encourages Rie to belong in one of the committee.

Rie: "I'm not really interested in those kinds of things."
Otomo: "Well, but I want everyone to do it fairly."


Scene 3 - In the classroom, break time

Otomo comes at Rie's desk.
Rie: "Um, I don't really feel like belonging in a committee."
Otomo: "That's because you need to pick up and drop off Mamoru, right?"
Rie denies.
Otomo: "Our high school life is already halfway done. Is it OK for you to graduate like this? Are you really satisfied? I can sometimes take Mamoru home, too."
Rie remains silent.

Otomo tells Sato-senpai is saying that he wants Rie to belong in a same committee.
He's a really popular and admired student at school.
Rie feels happy.

---------------------------------------------------


リエ 「佐藤先輩が?」
       急にソワソワし出すリエ。
       笑う大友。
       立ち上がってウロウロするリエ。
       大きく動いたリエの足をよけるマモル、見上げるとリエの明るい顔。
大友 「おめでとう」
リエ 「嘘だよ、嘘でしょ?」
       再び着席したリエの足にぶつかり、スリッパとイスの足に挟まれるマモル。

大友 「嘘じゃないって」
リエ 「やばい、とうしよう、やばいやばいやばい」
       大友、委員会メンバーのリストを取り出す。
大友 「じゃ、書いちゃうね、広報委員会、金子と…」
リエ 「えーー!ちょっと待って」

大友 「考えることじゃないと思うよ、やってみたら?」
リエ 「…うん」
大友 「佐藤先輩だよ、佐藤先生じゃないよ」
リエ 「佐藤よしろう?」
大友 「佐藤喜朗じゃないよ、国語の」
       2人笑う。
リエ 「佐藤喜朗だったらどうしよう」
大友 「佐藤喜朗だったら無視でいいよ、アハハ」
       2人しばらく佐藤喜朗の話で笑ってる。
       挟まって苦しそうなマモル。

※ここでスチール撮影( 1 )

シーン3 公園                                           .

       公園のベンチ。
       ぼんやりヨーグルトを食べてるリエ。

マモル 「ねえ、リエちゃん。ぼくにも。」
リエ 「あ、ごめん。はい。」

       リエ、隣にいたマモルにヨーグルトをあげる。

リエ 「おいしいよね、これ。ミックスベリー味。」
マモル 「うん。」

       しばらく沈黙の2人。

リエ 「はい、食べる?」
マモル 「もういい。」

       ヨーグルトをただ食べるリエ。空がきれい。
       リエ、ヨーグルトを足に落とす。

リエ「うわぁーやっちゃった!ねぇ、タオル取って」

       マモル、バッグの中からゴソゴソ何か引っ張り出す。

リエ「それ、体育着だってば。」

       体育着を戻して小さなハンドタオルを取り出す。

リエ「早く早く!」
       靴下のストロベリーソースが赤い軌跡を残してゆっくり落ちていく。
       リエ、ハンドタオルで拭く。赤い汚れ広がる。

マモル 「リエちゃん、広報委員会やるの?」
リエ 「うーん、迷ってる」
マモル 「そっか」
リエ 「…」
マモル 「有名なんでしょ?その、佐藤先輩って。そんな人に誘われるなんて
       さすがリエちゃん。」
リエ 「…」
マモル 「図書委員会とかはどうかな?それなら僕も手伝えるし」
リエ 「…」

       リエ、汚れを拭ききれず、靴下を片方脱ぐ。
       脱いだ靴下はバッグの横。
       リエ、ヨーグルトの蓋と容器をひとつにして立ち上がる。
リエ「ごみ捨ててくるね」
       リエの脚がバッグに触れ、マモルはバッグの中に転落。
マモル 「あっ」
       リエ、脱いだ靴下が気になり、3歩戻ってそれを素早くバッグへ。
       もがくマモル、靴下に押し込まれてさらに奥へ。
マモル 「うわっ…うぐ…」
       マモル、衣類の壁を登ろうとするが登れない。


--------------------------------------------------------

vol. 6 plot
1. A wall at the national border. A big gate.
2. Women soldiers are protecting the gate. The snow has stopped.
3. There are many refugees and they are around the fire.
4. A woman soldier holds a shrinking gun.
5
--------------------------------------------------------

vol. 7 plot
1. At a TV shopping studio. AD and the host are having a meeting.
2. Today's product is a beautiful set of earrings and touring.
3. Its designer is here for a guest.
4. But the designer is so small that the host is surprised.
5. Live broadcasting starts.
6. A problem happens.
7.




If you have any ideas, please mail  info2007@love-boots.com